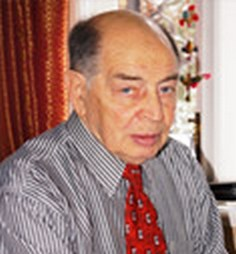 January 08,1933 Born in Gorlovka (Ukraine)
Russian Citizenship
Languages: English, Ukrainian
Married – two daughters (1959, 1971)
Affiliation:
Institute of Problems of Chemical Physics, Russian Academy of Sciences; Semenov Prospect, 1; Chernogolovka, Moscow Region 142432 Russia. E-mail: This email address is being protected from spambots. You need JavaScript enabled to view it.

Education received, employment and teaching experience:

1950-1955 Kiev Polytech. Instit., undergrad. Stud. of Metall. Faculty (Engineer in Powder Metall.)
1955-1958 Instit. of Metal-Ceramics & Special Alloys (Ukr. Acad. of Sci., Kiev), postgrad. student
1959 PhD Thesis "Sintering of Metal Powders"
1959-1962 Senior scientist of Institute of Metal-Ceramics and Special Alloys (Kiev)
1963-1976 Head of Dept. of Materials Science in Podol'sk (near Moscow) Technological Institute
1969 Doctor dissertation "Diffusion and Creep in Refractory Carbides and Nitrides"
1976-1984 Professor of Moscow Institute of Fine Chemical Technology, Dept of Refr. Compounds
1984-1990 Deputy Director of Physical Institute in Kirghiz Acad. of Sci. (Frunze, now Bishkek)
from 1990 Principal Scientist, Institute of Problems of Chemical Physics, Russian Academy of Science, Chernogolovka, Moscow Region
from 1990 Teaching experience in the Moscow Institute of Steel and Alloys, in the Chernogolovka Branch of Moscow University with lection course "Nanostructured Materials" and as invited professor (for 1 month) in some foreign Universities such as Limoge University (France, 1998), Coimbra University (Portugal, 2001), Ben Gurion University (Ber Sheva (Israel; 2003), and Harbin Institute of Technology (China, 2006).
Training
Theses Supervisor of 33 Candidates of Sciences (PhD) and of 6 Doctors of Sciences

Scientific field
Nanostructured materials; Superhard films; High-melting point compounds (carbides, borides, nitrides) and hydrides; Consolidation of nanoparticles; Stability of nanomaterials

Publications
470 scientific publications including 13 books, 70 reviews and 80 papers in reviewed foreign Journals and Proceedings. Hirsch-index h=20; CI=1330 (WOS))

Editorial
Member of three International Editorial Boards and four Russian those. Guest Editor of 3 Special Issues on Nanomaterials in the International Journals

Major honors
Corresponding Member of the Kirghiz Academy of Sciences (Kirghizstan Republic)
Member of the Materials Research Society (USA)
Full Member of the International Institute for the Science of Sintering (Serbia)

Some recent publications
R.A. Andrievskii, A.V. Ragulya. Nanostructured Materials. Publ.Centre "Agademia", Moscow, 2005. – 192 p. (Text-book in Russian).
R.A. Andrievski. Nanocrystalline high-melting point carbides, borides and nitrides. In "Materials Handbook" (Ed. Y.Gogotsi) CRC Press, Boca Raton, 2006. – 405-454 pp.
R.A.Andrievski. Hydrogen in nanostructures. Physics-Uspechi 50, 691-704 (2007).
R.Andrievski, A.Glezer. Strength of nanostructures. Physics-Uspechi 52, 315-334 (2009).
R.A. Andrievski. Review – Behavior of radiation defects in nanomaterials. Review on Advanced Materials Science 29, No 1, 54-87 (2011).
R.A. Andrievski, S.V. Klyuchareva. Journal information flow in nanotechnology. Journal of Nanoparticle Research 13, No12, 6221-6230 (2011).
R.A. Andrievskii. Fundamentals of Nanomaterials Science. Possibilities and Problems. Publishing House "BINOM. Laboratory of Knowledge", Moscow, 2012. – 252 p. (in Russian).
R.A. Andrievski. Review of thermal stability of nanomaterials. J. Mater. Sci. 49, 1449-1460 (2014).
R.A.Andrievski, A.V. Khatchoyan. Nanomaterials in Extreme Environments, Fundamentals and Applications. Springer International Publishing Switzerland, 2016. – XIV+107 pp.